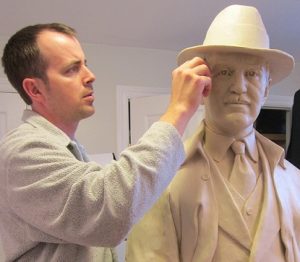 Robert Dey is a Canadian born Artist who lives and works from his home studio in Paris Ontario, Canada.  He has been creating and exhibiting his work since graduating from McMaster University in 1996 with a Bachelor of Fine Arts (Honours).  Robert's work focuses on depicting the human figure in bronze.  His modelling technique uses detailed realism with an emphasis on life-like movement.  Robert's sculptures show great character with a natural looking realism that is a quality unique to Dey's work.
Earlier in Robert's career he focused on creating one-of-a-kind small bronze sculptures which he exhibited and sold in Art Galleries and Fine Art shows.  Robert's work is in collections across Canada, the United States and Europe.  Dey's current focus has been working on life-size sculptures and commissions.  Robert was commissioned to create a life-size bronze figure of Canadian golf course architect Stanley Thompson.  The sculpture was commissioned by the Stanley Thompson-Highlands Links Historical Society.  The Society donated the sculpture to Parks Canada and it is installed on the first hole at the Highlands Links golf course on Cape Breton Island, Nova Scotia.  Robert was also commissioned to create a Monument to the Galt's in the city of Lethbridge, Alberta.  The monument consists of two life-size figures of Alexander Galt and Elliott Galt.  Alexander was a father of Canadian confederation and he and his son Elliott are considered to be the fathers of the city of Lethbridge.  The sculpture was commissioned by the Galt Museum and is installed in front of the Museum in Lethbridge, Alberta.  Robert has completed and cast in bronze multiple life-size portrait busts and undertaken numerous private commissions for smaller scale bronze sculptures.
Robert Dey has been privileged to be a finalist in numerous Public Art commissions including:
Royal Botanical Gardens, Burlington Ontario, monument to Thomas McQuesten
Town of Bracebridge Ontario, celebrating the tradition of Santa Claus
The Freedom Park Sculpture, Fort Erie Ontario, commemorating Fort Erie's role in the Underground Railroad
The Arnold Palmer Tribute Sculpture at Weston Golf and Country Club in Toronto, Ontario
The Hamilton Waterfront Trust "Hamilton Beach" Sculpture, Hamilton, Ontario
The Sault Ste Marie General Hospital 100th Year Heritage Sculpture. Sault Ste Marie, Ontario
Robert works very closely with the foundry through the entire bronze casting process and takes great pride in his work.  He is solely responsible for creating the original model, the rubber molds and the wax copies used in casting. He assists as much as he can in the casting, finishing and patinization of the finish piece in bronze.
---